Find Your Ideal Training Program in a Few Clicks
Upcoming Training Programs
Our Senior Trainers
Dr. Naeem
Ph.D. (Power System), Master (Electrical Energy) B.S.C. (Distinction, Electrical and Electronic Engineering)
Saidatul
B.Sc. (UPM), M.Sc. (UPM). Expert in Business Analysis, Big Data, Data Governance and Digitization
Dr. Mirza
DBA, MBA (USM), Dip. Production Mgnt (UK), Cert. Factory Mgnt (Japan), Six-Sigma B.B., Lean Master, PMP
Assoc. Prof. Dr. Jamaliah
Ph.D. (University of Cambridge, UK), M. Arts (Indiana University, USA), B.Sc. (Indiana University, USA)
Mehan
B.A. in Education (Hons), M.Sc. HRM (Manchester, UK). Expert in HRM, Change Management & Leadership
Assoc. Prof. Dr. Zulkifli
Ph.D. & Master in Publishing Studies (UM), Bachelor's in Mass Communication (UiTM)
Ir. Catherine
Chartered Engineer (UK), Professional Engineer (MY), PMP, PEng, CEng, MIMarEst, MIEM, CAC, B.Eng (UK)
Assoc. Prof. Dr. Amir Raslan
Ph.D. (Cambridge), 4 Masters (Uni of York, UiTM, UM & UKM), B.A. Hons. (West of England Uni), CIFP (INCEIF)
Our Clients
Testimonials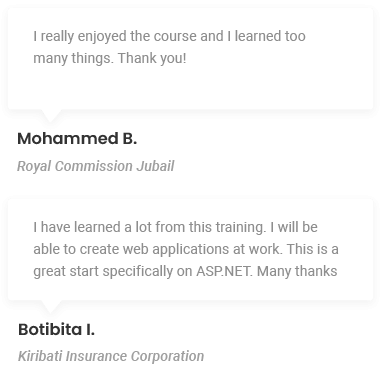 At a Glance
IMTC is a leading training center Malaysia, that has footprints in 30 different cities around the world. Recognized by HRDF, agency under the of the Ministry of Human Resources in Malaysia, as a five-star training provider in Malaysia.
IMTC offers a wide range of online training courses and short training courses in Malaysia, Turkey, UAE and other countries in Europe and South East Asia. (training courses in Kuala Lumpur. training courses in London. training courses in Dubai, and training courses in Istanbul).
Being one of the top training companies in Malaysia with access to an unparalleled pool or academic and professional resources.
Our extensive list of Training Programs have been designed based on, comprehensive research of the market needs and requirements. while tracking the latest trends and emerging best practices to ensure that all learning materials are up-to-date, relevant, and rich. At IMTC training center, we bring together people, cultures and ideas to improve careers and to transform organizations, making us a progressive, cutting-edge training company in Malaysia with a global outreach.